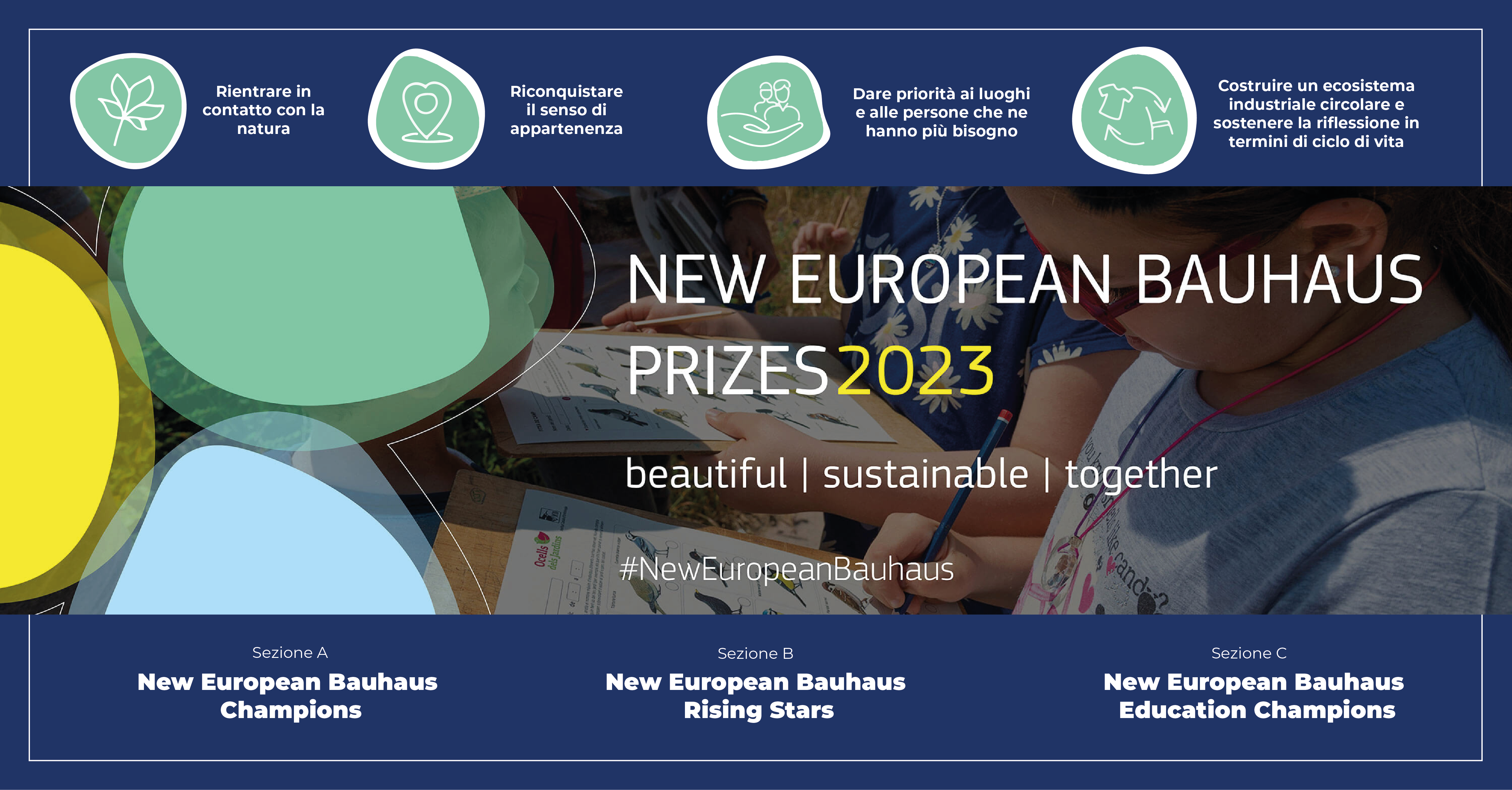 New European Bauhaus Prizes 2023
The "New European Bauhaus" initiative invites all Europeans to imagine and create a sustainable and inclusive future that is beautiful to the mind, the soul and the eye. The "New European Bauhaus", by building bridges between different backgrounds and adopting an interdisciplinary approach and focusing on participation at all levels, is an inspiration for a movement that promotes and guides the transformation of our societies according to three inseparable values:
sustainability, from climate goals to circular economy, zero pollution and biodiversity;
inclusion, valuing diversity and ensuring accessibility, including affordability;
aesthetics and quality of experience for people, through design, positive emotions and cultural benefits.
The European Commission launched the initiative at the end of 2020 to bring communities together and connect the "European Green Deal" to everyday life and living spaces. The first two editions of the "New European Bauhaus Awards" in 2021 and 2022 have shown that local communities are able to make connections with each other and find creative solutions that improve the quality of life. The 2023 awards will be presented in four categories, based on the transformation that guide the realisation of the "New European Bauhaus":
reconnect with nature;
regain a sense of belonging;
prioritising the places and people that need it most;
the need to think long-term and in terms of the life cycle in industrial ecosystems.
All entries should reflect the three values of the "New European Bauhaus" – sustainability, inclusion and aesthetics/quality of experience – and put the participation and vision of local communities at the heart of the process.
Each of the four categories includes three parallel competition sections:
section A, "New European Bauhaus Champions", is dedicated to ongoing and completed projects that have achieved clear and positive results;
Section B, "New European Bauhaus Rising Stars", is dedicated to concepts submitted by young talents aged up to 30. Concepts at different stages of development are eligible, from ideas with a clear design to prototypes;
Section C, "New European Bauhaus Education Champions", is dedicated to initiatives in the field of education and learning. Both completed projects and initiatives with a minimum level of maturity are eligible.
For each section of each category, a jury of experts will select one winner, so that there will be 12 winners in total. In each section, another winner will be selected by a public vote from the four categories (in total, three prizes will be awarded by the public). The winners will receive the "New European Bauhaus Award" at an official ceremony organised by the European Commission.
You can submit a project or idea until 31 January 2023.
From 2021, the Foundation, together with the "Comitato Nazionale per l'Housing Sociale", will be an official partner of the "New European Bauhaus initiative", an opportunity to promote interdisciplinary debate on the future of our homes and the possibility of creating new integrated housing systems.