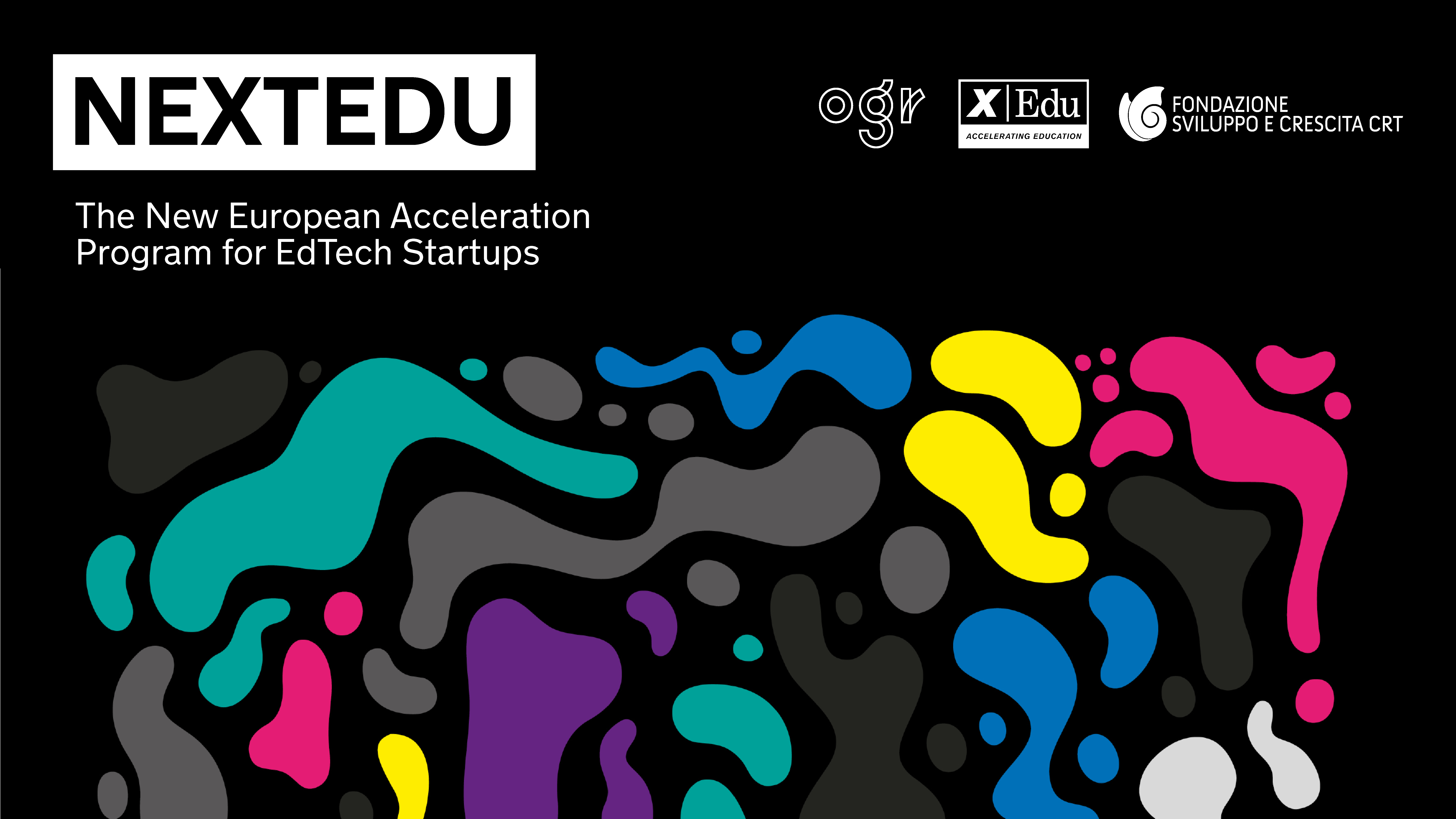 NextEdu's first Demo Day
NextEdu, the EdTech programme started from the collaboration between Fondazione Sviluppo e Crescita CRT, OGR Torino and xEdu
Tomorrow, 23 September, is a big day at OGR Torino in Corso Castelfidardo. In Sala Duomo, from 2.30pm to 6.30pm there will be the first NextEdu Demo Day; an afternoon that will feature startups of the acceleration programme focused on the development of new technologies for education and learning, that begun from the alliance between Fondazione Sviluppo e Crescita CRT, OGR Torino and xEdu, the Finnish business accelerator and European leader in EdTech.
Eight startups from different parts of the world participated in the acceleration programme, from Finland to Italy, from Turin to Helsinki, from Vilnius to The Hague, from Dubai to Miami: GraphoGame, Usophy Kids, upiopi, Wonderly, 3DBear, Escape4Change, GILO Technologies and Edfluence. This collaboration was created to strengthen the Italian ecosystem and support startups in developing transformative learning solutions with educational impact. From product development to market entry and internationalisation, the programme offers wide assistance, including coaching, mentoring and real-life testing environments for research and development, as well as a broad and rich global network of partners and contacts. Italy and Finland are known worldwide for the good performance of their respective education systems and can benefit from an alliance aimed at sharing and improving tools and outcomes in the pedagogical field.
The Demo Day is the final stage in the process of promoting startups. The event includes an extensive agenda.
At 2.30pm, after the welcoming by xEdu staff, Massimo Lapucci, Secretary General of Fondazione CRT and CEO of OGR Torino, will speak. This will be followed by a detailed presentation of the acceleration programme by Antti Korhonen, CEO of xEdu. At 3 pm, the startups will take the stage for the first round of presentations:
GraphoGame – the world's most effective gamified learning platform for reading and writing, which collaborates with top universities around the world and produces playful and effective learning apps aimed at children aged from 4 to 9.
Usophy Kids – reading and learning app for children under the age of 12, offering unlimited access to thousands of ebooks through a monthly subscription.
upiopi – creates joy-filled, hands-on learning experiences and offers safe and live online lessons and after-school activities for children aged 5 to 10, led by experienced educators using the Nordic, stress-free learning style.
Wonderly – an "all-you-can-learn" platform where children and teenagers can learn software development, robotics, game design, mathematics, data analysis and languages through high-quality, engaging content.
At 3.30pm, the panel discussion "The role of EdTech startups in urban communities" with Jarmo Souminen, Co-founder of Spacent, who has been working at the Massachusetts Institute of Technology (MIT) since 1999.
At 4pm, the second round of pitches:
3DBear – has received $4 million in investment to date and has been named one of the top 8 technology companies in the world by Bill and Melinda Gates. 3DBear offers a complete end-to-end service with software, teacher training and a learning and sharing platform. Educators can create their own learning and training content in AR/VR, with this solution.
Escape4Change – a start-up from Turin that offers its services throughout Europe. E4C seeks to raise awareness of social, cultural and environmental issues by creating educational gaming experiences that align with the 2030 Agenda of the Sustainable Development Goals.
GILO Technologies – a platform that facilitates writing by giving its subscribers access to academic definitions, analysing quotes on any topic, recognising when a text is off-topic, correcting faulty logic and creating short summaries. All feedback received is targeted and tailored.
Edfluence – an application that allows users to learn the English language in an easy and fun way, through short videos that users can interact with. The social, swiping-based format is the perfect companion for learning and having fun.
At the end of the presentations, it will be possible to test the startups' products to better understand how they work. The event will end with a networking aperitif at Snodo, food & drink area of OGR Torino.